E.A.T__WORKS takes its name and inspiration from a key moment in the history of art and technology. We seek to build on the legacy and impact of past artistic experiments to inform process and approach today.
Salon 0 launched during NFT.NYC as a prototype for an experimental match-making format, centered on the needs of artistic production.
15 Artists contributed works-in-progress, and made requests for resources and support.
Our first salon gathering brought together industry experts to support these needs, and art historical perspectives to create context for the salon.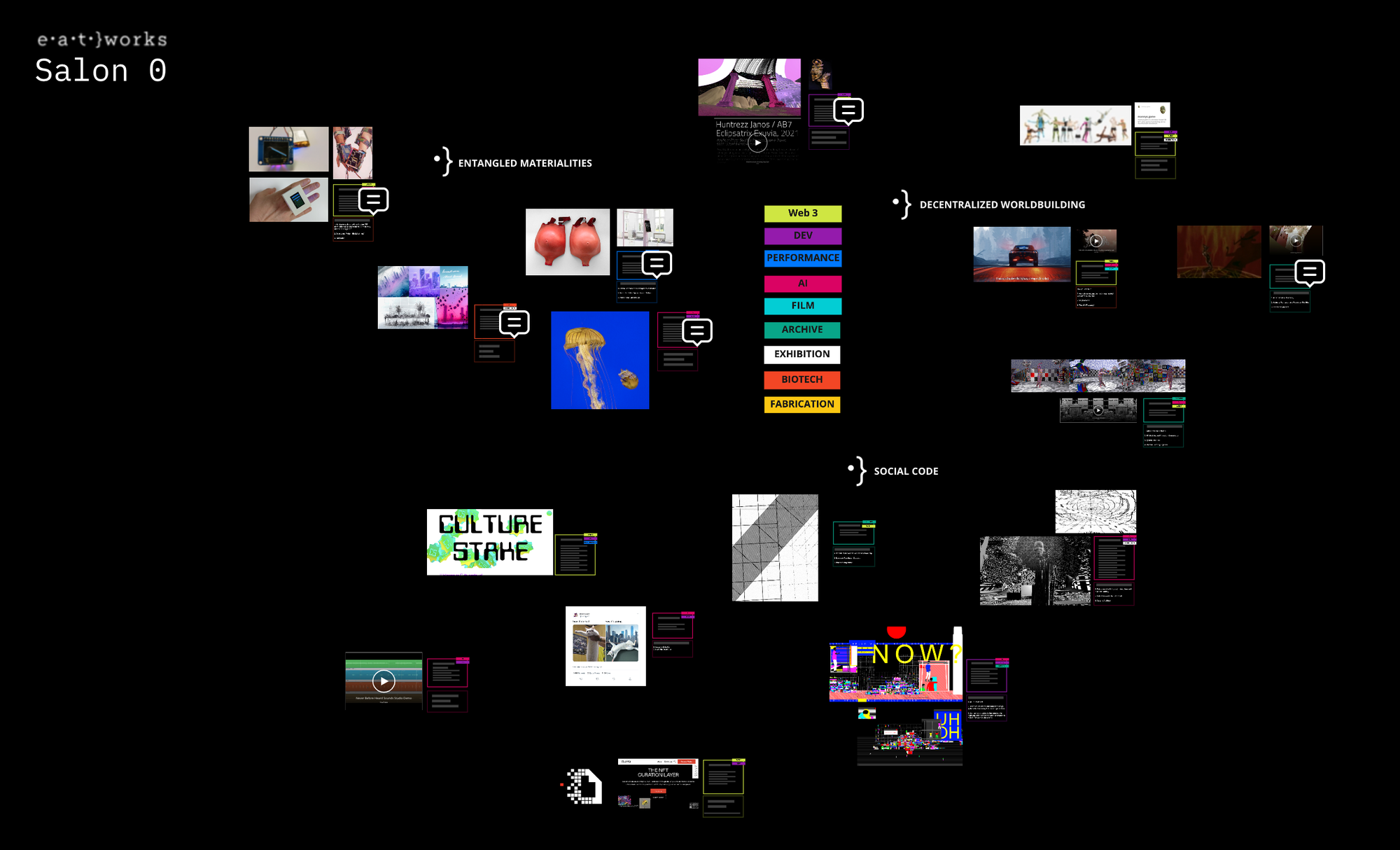 View the miro board to see projects from participating artists and reflections from curators and cultural leaders.
Season 1 Artist Matchmaking
Season 1 is geared towards prototyping a new model for resource and project matchmaking. Over the next few months, we'll be following up with the artists featured in our first salon and conducting studio visits, matchmaking check-ins, and working collaboratively toward evolving the submitted works for our next salon, slated for Fall 2022.
Participating Artists:
Lawrence Lek, Claudia Hart, Lauren Lee McCarthy, Peter Burr, Rosa Menkman, Auriea Harvey, Huntrezz Janos, Damjanski, IX Shells, LoViD, Sofia Crespo, Xin Liu, Manny 404, Never Before Heard Sounds and John F. Simon Jr.
Our driving principles are:
Focus on Studio-Driven Outcomes.
We are taking our cues from artists and working to help them realize ambitious new projects. The rationale here is that there is often a lot of valuable insight generated in artist studios, both in terms of conceptual approaches to new technologies and how they are poised to transform the world, as well as in terms of novel technical applications, tooling, and workflow that need to be invented in order to bring an artist's vision to life. At our first salon, we identified needs in these areas: Web 3, Development, Performance, AI, Film, Archive, Exhibitions, Biotech, Fabrication
Special thanks to our Matchmakers, who invited salon attendees to learn about the studios: Ruby Justice Thelot (Friends with Benefits), Maria Paula Fernandez & Trente (JPG), Derek Piech (Ryan Lee Gallery) and Wade Wallerstein (Outland Art & Gray Area)
Salons are curated by Kelani Nichole, Julia Kaganskiy and Regina Harsanyi who lead studio visits, curatorial research, and facilitate building relationships with institutions and stewards of Time-based Media Art.
Connect Resources from the Community.
A key differentiator in our approach is our integrated connection with Betaworks and decades of experience in emerging tech. Our team has developed deep relationships with engineers and creative technologists developing new technologies and tools. In the spirit of the historical precedent set by the original Experiments in Art and Technology, we aim to activate technical and other support resources in service of artist studios, and the organizations that have served as stewards for Time-based Media Art over the past 50 years.
Reflect on the History of Art and Technology.
Central to our salon gatherings is creating context for what came before. We invited curators and cultural leaders to help set the stage for our salons, and shared many reflections:
Julie Martin (E.A.T.), Joel Ferree (LACMA A&T), Barbara London (Curator), Rebecca Cleman (EAI), Christopher Lew (Outland Art), Tina Rivers Ryan (AKG Museum) and Magda Sawon (Postmasters Gallery).
What's Next?
Matchmaking
We are focused on making resource matches for our Season 1 artists.  Virtual Studio Visits and Matchmaking sessions with Season 1 Artists will be hosted for our membership this summer. If you can provide some of the resources needed by Season 1 artists to support the vision get in touch via Twitter or Discord.
Iteration
Some of the projects will evolve and be presented in our next salon in the fall of 2022.  Our next salon will reflect our members' input from studio visits and on-going conversation about what resonated from Salon 0.
Submissions for artistic experiments and resources from the community are accepted on an ongoing basis from our member community.